We recognize that all our patients are unique and deserve to receive orthodontic care that reflects their individual needs. Our experienced and talented team is committed to working with you and your family to create a comfortable, stress-free, and rewarding orthodontic experience every time you visit our practice.
We are pleased to welcome you and your family, and we look forward to working with you.
---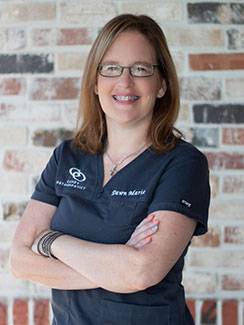 Dawn Marie
As the office manager, the best part of my job is watching the excitement of starting braces and the joy of seeing our patients' new smiles. I love meeting them at the first appointment and seeing them all the way through to their final smiles. Getting to know our patients and helping them feel comfortable with treatment is the best!
I live in Frisco with my hubby, three kiddos, and our dog Gunner. My family and I moved to Texas a few years ago and have loved every minute of it! We love to spend time together as a family, go to concerts and rodeos, and volunteer and help at our kids' schools.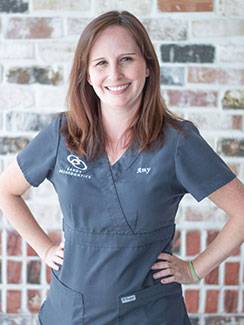 Amy
As a scheduling coordinator and patient records coordinator, I am responsible for making sure our patients have a great experience from scheduling appointments to taking their pictures and X-rays. I love to see our patients smile after their braces come off! It's amazing what a difference orthodontics makes in their lives. It feels great to know that we've helped our patients feel comfortable to smile more. Everyone here, from our doctors to the staff, loves our patients and really cares about how they feel.
In my spare time, I love spending time with my husband Noah, daughter Kenzie, and son Landon. We enjoy watching movies, going to Stars games, and going to our family's lake house to go kayaking and stand-up paddle boarding!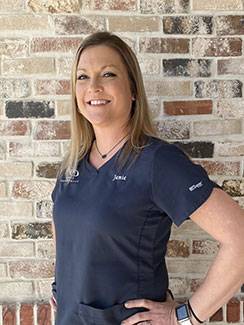 Jamie
As our insurance and scheduling coordinator, I enjoy meeting new patients and working with them during their journey to a beautiful and confident smile. My favorite part of my job is making our patients feel welcome and part of the Gandy Family!
I live in Wylie with my husband and best friend Brandon. We have four beautiful children, Maddie, Connor, Dakotah, and Hunter, and a grandbaby, Matthew. We have two dogs, Harley and Espn. We spend majority of our time at the baseball fields, basketball games, and football games. When we aren't at ball games, Brandon and I enjoy going to Canton and driving around East Texas.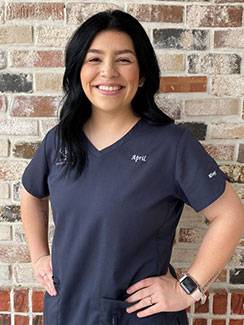 April
I'm April, your scheduling coordinator. My goal is to make sure your experience at Gandy Orthodontics is nothing short of amazing. My experience at Gandy Orthodontics since day one has been awesome and I want you all to experience the same thing throughout your journey to getting a new smile!
I have a German shepherd/great Pyrenees dog who is my whole world. We enjoy going on runs and snuggling on the couch. I love iced coffee, building Legos with my boyfriend, and reading anything by Colleen Hoover. My favorite thing to do is go back home to Lubbock to visit my family!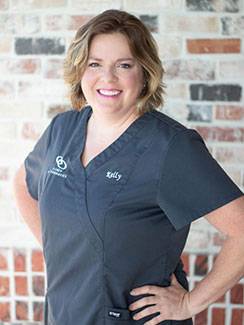 Kelly
Hi, I'm Kelly, a lead orthodontic chairside assistant. The best part of being an assistant is that I get to interact with patients on a daily basis. I love building friendships with them and seeing their amazing results and beautiful smiles after receiving treatment by Dr. Gandy and Dr. Chen.
In my spare time, I love hanging out with my husband of almost 30 years, Michael. We have one son, Dallas, who is studying computer science. When we have the chance, we love to travel!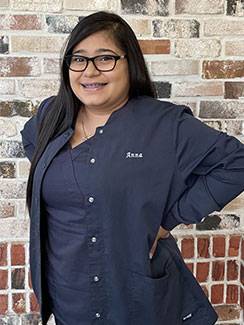 Anna
Hi, I'm Anna, your orthodontic chairside assistant. The best part of being an orthodontic assistant is seeing the patient's confidence grow after every appointment. Nothing is better than seeing how happy they are when they finally get their braces off. I also love being able to be a part of the patient's life, I love catching up on all their fun adventures.
I have amazing husband named Leo and we have two beautiful baby girls, AnnaSophia and AnnaLeah. We love to go out to the park and hang out with our families especially during football season—GO COWBOYS!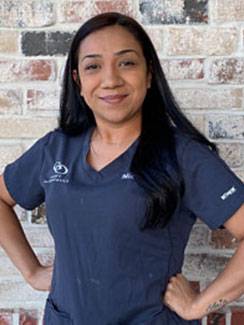 Michelle
Hi, I'm Michelle, your orthodontic assistant. The best part of being an assistant is getting to be a part of our patient's journey to a beautiful smile! I believe we are just as excited as the patients when they finally get to see their results at the end of their treatment. I enjoy getting to hear our patients' new adventures in life at every appointment.
On my days out of the office, I am home with my son Andrew and my daughter Melanie. We enjoy our Saturdays at their Little League football and cheer games. I also enjoy listening to music.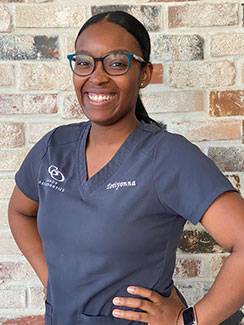 Totiyonna
Hello, I'm Totiyonna your orthodontic chairside assistant. The best part of being an orthodontic assistant is being able to meet all of the patients and build relationships with them! I love seeing them so happy with their new smiles!
When I'm not working at Gandy Orthodontics, I'm at home spending time with my son Braxton and my fiancé. We love to walk around our neighborhood, getting fresh air and enjoying the great outdoors!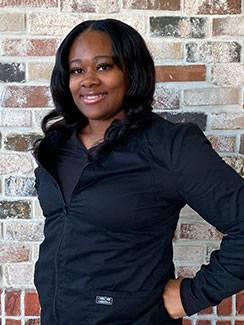 Daja
I'm Daja, our records coordinator. I work with most of our new patients to take X-rays and photos, as well as schedule appointments. I enjoy helping our patients feel welcome in our office and excited for the results they'll achieve with treatment.
I am blessed with a four-year-old son and a wonderful boyfriend. In my spare time, I love being with my family, traveling, and activities like go carting, amusement parks, and going to the beach. Someday, I want to go sky diving!
Mikayla
Welcome to Gandy Orthodontics! I'm Mikayla, a treatment coordinator. I am the first to see new patients, so I help to explain the differences in braces or clear aligners to patients and go over their specific treatment plan that will accommodate their wants and needs. Of course, watching their smiles slowly grow as they continue treatment and start to love their smile more and more is an awesome feeling. We're a family here, and really do what it takes for our patients to enjoy the process of straightening teeth.
Outside of enjoying my family here at Gandy Orthodontics, I love to play indoor and sand volleyball. I have developed some awesome friendships through sports over the years and join many leagues throughout the year playing. I also love to travel a lot and explore new places and foods.